Profile: Cox Communications
Current Tucson Job Openings at Cox Communications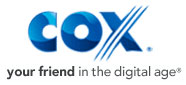 Who We Are
Cox Communications Arizona is leading the industry and our millions of customers into the digital age. As a company, Cox specializes in connecting people with the things that are most important to them – and Cox Communications Arizona is advancing the cause even further - setting the corporate standard for excellence and innovation nationwide.

Careers at Cox Communications Arizona are likewise exceptional. As the leading telecommunications provider in Arizona, and one of the state's most respected and visionary companies, there's no place better equipped than Cox to connect you with the professional growth, recognition and rewards you seek.

At Cox, inclusion is a fundamental value and a practice we apply to every one of our relationships. Through diversity, we strengthen not only our position as an industry leader and employer of choice, but also our ability to connect our business partners with the things that are most important to them, such as:
• Connecting customers with the most advanced entertainment and communications services at a good value
• Connecting employees with numerous opportunities for advancement, development and involvement
• Connecting suppliers and vendors with ample opportunities to do business with us and grow with us through partnership
• Connecting with our communities by supporting local schools, organizations and causes important to the infrastructure of our towns and cities.

Cox Communications is committed to keeping these connections strong and long-lasting. Our dedication to diversity is well known in the industry and community, and we are proud to have been recognized as a Top Company for Diversity in 2007 by Diversity, Inc., and a recipient of the 2006 SHRM Workforce Diversity Award. We've also been ranked by Fortune Magazine as one of the 100 Top Most Admired Companies and have received the Urban Leagues Whitney M. Young Award for our commitment to diversity.

Every day, we work to understand, involve and meet the needs of all of our stakeholders. It's how we ensure we're constantly offering the products, services and opportunities people want and deserve; and how we remain the kind of company that people want to work for and with.
Innovation. Advancement. Challenge. Reward. Cox Communications Arizona is ready to connect you with a career that offers all this and more.

Make the most of your potential. Make a difference with an innovative industry leader. Make a Cox Career Connection today. For more information, or to apply for open positions, visit us online at www.workatcox.com now.

What We Do As the third largest cable provider in the nation, Cox Communications, Inc. is noted for its high-capacity, reliable broadband delivery network as well as the company's ability to provide superior customer service. For Cox, it's not about being the biggest; it's about being the best. With more than 6.6 million customers, approximately 22,000 employees, and a firm commitment to education, the Cox team is widely regarded as the best in the cable industry, having earned multiple distinctions in customer satisfaction and company strategy. For four consecutive years, Cox has also received highest honors in J.D. Power and Associates Local Residential Telephone Customer Satisfaction in the Western Region (2003, 2004, 2005 and 2006). Nationwide, bundled customers ranked Cox #1 in Customer Satisfaction for Bundled Residential Long Distance Telephone Services.
Since 1962, Cox has built high quality communications networks and delivered quality cable television programs. A full-service provider of telecommunications products, Cox offers an array of services, including Cox Cable; advanced digital video programming services under the Cox Digital Cable brand; local and long distance telephone services under the Cox Digital Telephone brand; high-speed Internet access under the brand Cox High Speed Internet, and commercial voice and data services via Cox Business Services. In addition, Cox is an investor in programming networks including Discovery Channel.

Cox Arizona Benefits
• Free digital cable, free high speed Internet and discounted telephone
• Exceptional , day-one benefits including health insurance (for full-time employees), paid vacation and employee assistance programs
• 401(k), pension program & tuition reimbursement
• True collaboration with the industry's most talented, driven and dedicated team of co-workers
• Access to state-of-the-art technology (ASP, NET, Java, Power Builder Development, Solaris, Windows, AS/400, ISS, Oracle, RPG, Unix and more)
• A dynamic atmosphere that rewards innovation, ambition and creativity with continuous opportunities for growth and success
• On-going, cross-functional training to maximize your skills and potential

Cox Communications is an Equal Opportunity Employer and an Affirmative Action company.
Locations
1440 E. 15th St. Tucson, AZ 85719